How to get to Kassel
Kassel, situated in the heart of Germany, is easily and quickly accessible by Interrail or on the motorway from anywhere.
Map: University of Kassel - Department of Public and International Affairs
By Railway
Kassel has two train stations (central station and ICE-station Wilhelmshöhe) and can be reached by train, easily. The ICE-station Wilhelmshöhe is the bigger station of the two; all intercity (IC) and intercity express (ICE) trains will arrive here.
The link leads you to the travel information of the Deutsche Bahn (German Rail).
Travelling times from major German cities to Kassel
By car
There are several Motorway Connections to Kassel:
A7 Flensburg - Hamburg - Kassel - Frankfurt and/or Würzburg
A44 Cologne/Dortmund - Kassel - (Eisenach) - Erfurt
A49 Kassel - (Marburg/Giessen) - Frankfurt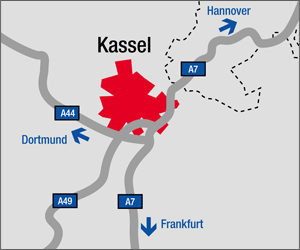 Motorway (Autobahn) connections to Kassel